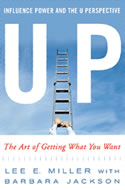 UP: Influence Power and the U Perspective
The Art of Getting What You Want
by best selling author Lee E. Miller with Barbara Jackson
What would you give to be able to get anyone to do whatever you wanted them to do? How different would your life be if you knew the secret for getting your boss, your co-workers, your employees, your children and your spouse to help you with anything you need? What if you knew how to make your customers buy more and not quarrel about the price? Harnessing the power of the U Perspective will make all that and more possible.
Regularly $18.95, Our Price $15.95

Lee E. Miller,the author of the critically acclaimed Woman's Guide to Successful Negotiating (McGraw Hill) and Get More Money on Your Next Job (McGraw Hill), along with Barbara Jackson, the former Director of the Office of Management and Budget for the State of Massachusetts, shows readers how to get others to want to help them.
The most successful people, the ones that organizations turn to time and time again, exert a special type of influence—the U Perspective. Their secret is to uncover and address what others want, which enables them to build lasting agreements that always achieve their goals. Getting what you want, in every aspect of your life, requires knowing how to gain the cooperation and support of others.
Lee E. Miller's unique 3Cs- Convince, Collaborate and Create- Approach to Influencing will enable you motivate people to want to help you. Together with Barbara Jackson. Lee will teach you how to harness the power of the U Perspective. Whether you are seeking additional resources from your from your boss, better results from your employees, additional sales from your customers or lower prices from your suppliers, Lee and Barbara will show you how.
What People are Saying About UP: Influence Power and the U Perspective—The Art of Getting What You Want
"The U Perspective and the 3 Cs Influencing Method provide a playbook for success. Everyone can benefit from this book"
Paul Tagliabue, Former Commissioner, National Football League
"An invaluable resource. Lots of practical advice about winning people over. This book challenges conventional wisdom on how to gain influence and power."
Tom Shull, Chairman and CEO, Wise Foods, Inc
"This is a MUST read--every page is filled with wisdom and actionable ideas"
Andrea Nierenberg, Author, Million Dollar Networking
"As a coach , my job is to help sailors learn how to use their past experiences to make excellent split second decisions so that they can make the leap from great to gold. This book tells you how to do the same in any business."
Skip Whyte, United States Olympic Sailing Coach
"The key to success in business is your ability to influence others. This book provides a unique approach that will help you get what you want in any situation."
Harold Bosworth Chief Merchandising Officer, Talbots
Regularly $18.95, Our Price $15.95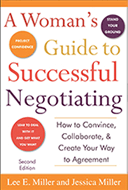 A Woman's Guide to Successful Negotiating:
How To Convince, Collaborate And Create Your Way To Agreement
By Lee E. Miller and Jessica Miller
Selected by Atlanta Woman Magazine as "One of the 50 Best Books for Professional Women "
Featured on The Early Show and Good Morning America
Regularly $22.00, Our Price $15.95

This is a different type of "how to" book on negotiating, specifically written for women. It is organized around three readily understandable negotiating concepts "Convince, Collaborate and Create" that the authors developed to take advantage of the strengths women bring to the bargaining table and which men can use with equal effect. The book is a practical guide for women dealing with real life negotiating situations.
The authors also explore the ten common mistakes women make during negotiations and how to avoid making them. In addition, the book will teach you three keys to successful negotiating. The book also features innovative strategies for negotiating with aggressive men and competitive women. Whether negotiating for a business deal or where to go to dinner, this book shows you how to get what you want.
The examples the authors use to illustrate these principles come from their own experiences and those of the women they interviewed including Cathleen Black, President, Hearst Magazines, Carol Raphael, President, The Visiting Nurse Services Of New York, Carol Evans, Publisher, Working Mother Media, Kitty D'Alessio, the first female and the first American President of Chanel, Carole Cooper, owner/agent of N.S. Bienstock who represents television personalities such as Fox's Bill O'Reilly and NBC's Soledad O'Brien, Susanna Hoffs, lead singer of The Bangles, Emmy and Tony Award winning actress Christine Baranski, Lisa Caputo, President of Citigroup's Women & Co and formerly White House Press Secretary for Hillary Clinton, Katie Ford, CEO, Ford Modeling Agency, Elaine Conway, The Director of The New York State Division for Women, and Katie Blackburn, Executive Vice President of the Cincinatti Bengals.
A Woman's Guide to Successful Negotiating was named sixfigurejobs.com's Book of the Week and has been featured in Women In Business Magazine.
Here is what some of the most influential women in the country are saying about A Woman's Guide to Successful Negotiating:
"Breakthrough perspective. Every woman can benefit from this indispensable guide to getting what you want."
Cathleen Black, President, Hearst Magazines
"No matter what the situation, this book provides you with the negotiating techniques and the overall confidence to deal with the issue"
Rose Marie Bravo, Chief Executive Officer, Burberry Ltd
"Whether you are in the boardroom or at home with your kids, this book shows
you how to get what you want and do it with style."
Lisa Hall, Chief Operating Officer, Oxygen Media
"Lots of practical advice on how to win with a woman's touch.
Jan Hopkins Anchor CNN Street Sweep
"A useful book for women on the art of negotiating . . . in business, in
personal relationships, in every area of life."
Donna Lagani, Publishing Director
Cosmopolitan and CosmoGirl Magazines
"Negotiation is important to every aspect of our lives. . . .both professional and personal. Lee and Jessica Miller have created a solid reference book that is both helpful and fun to read. I recommend it enthusiastically."
Joan Shapiro Green, President, Financial Women's Association
"Much of life is one great big negotiation and in A Woman's Guide To Successful Negotiating, this father-daughter team lets women in on the secrets they have learned over their lifetimes."
Gail Evans, Author Play Like A Man, Win Like A Woman
An invaluable source of wisdom for woman, young and old, who want to take their place in the world."
Christine Baranski, Emmy and Tony Award Winning Actress
"The definitive negotiating guide for women. The fact that a father and daughter could actually get this book to print speaks volumes about their individual negotiating skills.
Joan Verplanck, President, New Jersey State Chamber of Commerce
Regularly $22.00, Our Price $15.95

[ Top ]